Study In France
A WHOLE WORLD OF OPPORTUNITIES AWAITS YOU.
France
List of universities
ESC Dijon / Burgundy School of Business
Grenoble Ecole de Management
EM Normandie
Novancia Business School Paris
EM Strasbourg Business School
Telecom Ecole de Management
INSEEC
Shiller International (Paris)
ESIGELEC, Graduate School of Engineering
Institut supérieur d'électronique de Paris (ISEP)
Le Cordon Bleu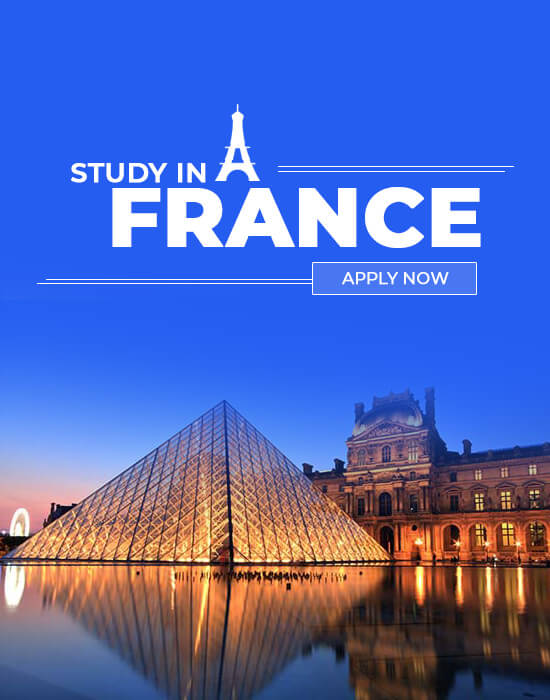 Highlights
Visa
Sufficiency of funds and proficiency of English are two major criteria for VISA success.
Overseas health insurance of 90 days with a cover of 30000 EUR is required for VISA.
With France VISA, the student can travel anywhere in Europe except the UK.
High VISA success.
No requirement of Blocked account.
VISA processing time is 15-20 days.
Entry criteria
Academics percentages from 55%- 70% and above.
Fluency in English.
Intakes
Most courses start in winter intake (sept/Oct), however, some may even have summer intake(March/April).
Admission Process
Documents Required.
A copy of passport first and last page.
Resume/ CV
Academic documents 10th onwards (Mark sheets or Transcripts).
School Leaving Certificate and Degree Certificate.
Two letters of recommendation.
Statement of Purpose.